Today's WTF Wednesday is a double dose, because there's lots of weird stuff to share. First up, Star Wars themed burlesque, because apparently sexy girls in and of themselves aren't enough to excite men? If you're in LA and want to see a topless C3PO have at it I guess?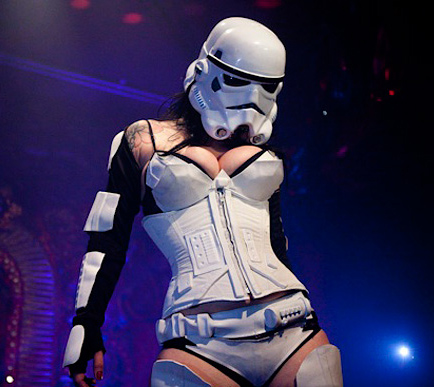 Via LA Weekly
In other totally unrelated WTF news, remember last month when the mayor of Copenhagen made a fuss about how the environmental summit crowd should save the planet by avoiding the city's prostitutes? This puritanical posturing seems like quite a far cry from the country's bizarre attempt at viral marketing.
VisitDenmark put out a video featuring an attractive young Danish woman claiming that she was looking for the father of her baby — a tourist she had a drunken one night stand with. So I guess the message was supposed to be something along the lines of "Denmark: come for the beer, stay for the unprotected sex with our loose women?"  I like how, in the video, she say she hasn't been with anyone but this tourist, so he must be the father. That's right, hot Danish girls are saving themselves for unsafe sex with drunk tourists.
When asked about this major marketing fail, VisitDenmark's spokeswoman said "Karens story shows that Denmark is a free place with space for you to be who you want. The film is good exposure for Danish self sufficient and dignified women." WTF?! Naturally, response to this video was less than favorable and VisitDenmark removed their video, but you know how it is, once in cyberspace, always in cyberspace. You can enjoy the WTFery below:
Would this actually make people want to visit Denmark?
via Adland