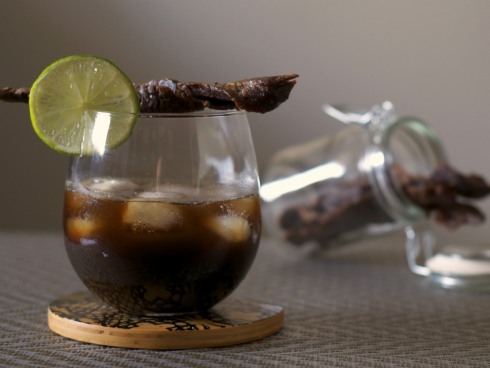 File this under "meaty things I will never put in my mouth." Jenny and Neil at the Communal Table blog are members of Kitchen Play, a site devoted to creating new recipes involving secret theme ingredients, a la Food Network hits Chopped and Iron Chef America. They were tasked with creating an adult beverage built around beef supplied by Kitchen Play sponsor Canadian Beef. The sad, terrifying end result of their experiment is below:
The Moogarita (makes 1 drink):
1 oz tequila
1 oz good quality beef stock (unsalted and as pure as possible)
½ oz ginger-lime simple syrup (see recipe below)
½ oz thinned tamarind paste*
Ice cubes
To thin tamarind paste, put about a tablespoon of it into a bowl and whisk in about a tablespoon of warm water, a little bit at a time until you get a smooth, thin, syrupy consistency. Set aside.
Put 3 or 4 ice cubes in a cocktail shaker. Add tequila, beef stock, ginger-lime simple syrup and tamarind. Shake well. Pour into a highball or margarita glass and garnish with jalapeno-lime beef jerky (see recipe at bottom) and a slice of fresh lime.
*Tamarind paste can be found at many specialty stores and ethnic grocery stores. If you can't find it, you can substitute ½ oz of HP Sauce, which is similar in flavor with a bit more spice and bite to it.
Ginger-Lime Simple Syrup:
½ cup fresh lime juice
½ cup sugar
1 tbsp finely grated fresh ginger
Bring lime juice to a boil in a small saucepan. Add sugar and ginger, and lower heat. Simmer and stir for 5 minutes, or until sugar dissolves and ginger infuses syrup. Let cool.
You can strain the syrup to remove pieces of ginger, but we decided to keep them in to add more flavour to the drink.
Makes about 2/3 cup of syrup. Syrup can be stored in an airtight container in the fridge for about two weeks.
Jalapeno & Lime Beef Jerky
3/4 lb flank steak (or perhaps some baked marinated tofu if you prefer a less-carcass-y flavor)
1 jalapeno, half of seeds discarded, chopped
1/3 C fresh lime juice
1/2 C tequila
¼ C tamari soy sauce (or regular soy)
4 Tbs brown sugar
2 tsp salt
2 tsp pepper
Slice beef against the grain, into long, thin strips. (Tip: put your meat in the freezer about an hour before cutting it. It'll be easier to slice.)
In a large bowl, whisk together lime juice, tequila, tamari soy, brown sugar, salt and pepper until the sugar dissolves. Stir in jalapeno.
Place beef strips in a glass baking dish (or other non-reactive receptacle) and pour marinade overtop. Cover with plastic wrap and marinate in the fridge for at least 6 hours (overnight is best).
Preheat oven to 175 C. Remove marinated beef from the fridge, and place slices on paper towel. Remove any jalapeno seeds stuck to the beef if you want a milder beef jerky. Using more paper towel, pat the pieces dry to remove excess liquid.
Line a baking sheet with tin foil. Arrange beef slices flat on sheet without overlapping. For a more stylish-looking jerky, twist the slices of beef before placing them on the baking sheet. Sprinkle with sea salt and place in oven.
After 1.5 hours, remove the baking sheet and flip each piece of meat over. Put back in the oven for another hour.
After another hour, check to see how dry the beef is, flip slices again, and put back in the oven for an additional half an hour if needed. The goal is for the jerky to be as firm and dry as possible, without getting too brittle.
When sufficiently dried, remove jerky from oven and let cool. The beef will dry further as it cools so make sure not to overcook/over-dry in the oven.