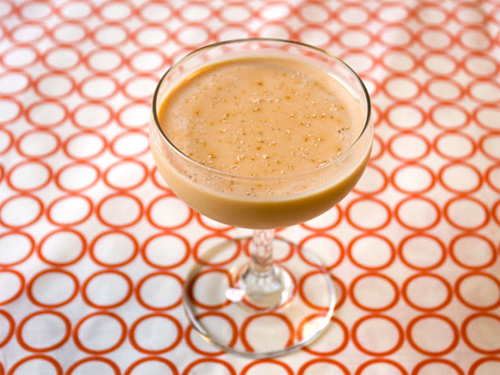 When it comes to cocktails, Fall is a great season for drinking them. Cinnamon, nutmeg, pumpkin, apple—it's all just so delicious!
In the spirit of the season, I present to you Pumpkin Punch w/ Cinnamon-Infused Rum, courtesy of Kelly Carámbula and Serious Eats.
Ingredients:
For the cinnamon infused rum:
1 750-mL bottle of dark rum, like Flor de Caña, Gosling's Black Seal, or Myer's Dark
3 cinnamon sticks
For the punch:
10 ounces pumpkin purée
10 ounces cinnamon-infused rum
10 ounces sweetened condensed milk (vegan? Just melt some vanilla soy ice cream—but not that Soy Delicious Coconut Milk stuff. The coconut flavor will overpower the delicacy of the pumpkin)
10 dashes Angostura bitters (seems a bit excessive, but keep in mind it's for an entire punch bowl)
Freshly ground nutmeg (for real—fresh nutmeg is not that expensive, and you can totally tell the difference)
Ice block or cubes
To Make:
Infused rum: Combine the cinnamon sticks and rum (keeping the rum bottle) in a large ball jar (or any wide-mouthed jar.) Seal and place in a dark area for 3 days, gently shaking daily. Once the cinnamon flavor is bold enough, remove the cinnamon sticks and pour back into the liquor bottle.
In a large punch bowl, combine the pumpkin purée, rum, condensed milk and bitters. Gently stir until fully combined.
Sprinkle freshly-grated nutmeg over the entire punch bowl.
(Check out Kelly's blog Eat. Make. Read. for more of her recipes!)