This isn't really news, but back in July the Rickey was declared the official cocktail of Washington, DC. Which is funny, because I feel that to live and work in the nation's capital or root for their sports teams, I'd need way more than one cocktail to keep me sane (I should know; I'm a big 'Skins fan). The good news is that the Rickey is a pretty basic drink that lends itself to a fair amount of variation. While I doubt I'd be a fan of the original "Joe" Rickey that uses bourbon in lieu of gin, I do like me some gin. So I scoured the webz for something awesome, and there is not much in this world that's as awesome as booze and fire. Behold, the Rosewater Rickey: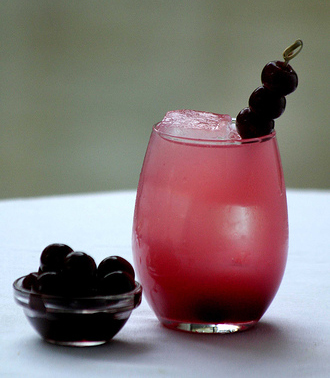 Created (and photographed) by Jamie Boudreau at Vessel in Seattle, this is how it's gonna go down:
Brulee in the bottom of a mixing glass:
5 pitted, brandied cherries
bar spoon of sugar
Angostura mist* (see below)
Fill with ice and add:
3 oz gin
1 bar spoon of rosewater
½ oz fresh lime juice

shake and strain into an iced Collins glass
top with soda water
*For Angostura mist, place equal portions of Angostura bitters and Lemon Hart 151 rum into an oil mister/sprayer.
To brulee the cherries, place them in your mixing glass, add the sugar, and mist the Angostura mixture through a flame.
Flame until sugar caramelizes.
As per usual, feel free to sub your own favorite spirit—I'd probably go with Hendrick's for the gin, and since Lemon Hart 151 is extremely hard to come by, you may want a nice El Dorado (maybe the 8 year old?) or, in a pinch, Gosling's Black Seal. Also, rosewater can usually be found in fancier groceries like Whole Foods or Fresh Market. Also-also, fire is awesome, but also hot. Be careful!
(Via Liqurious, as usual)