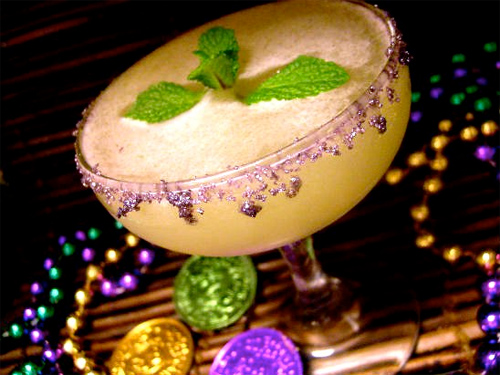 It's sort of amazing that it took until 2012 for someone to create a flavored spirit specifically for Mardi Gras, a week-long celebration of drunkeness. I've never been to New Orleans period, let alone during Mardi Gras, but it's always depicted as this epically-debaucherous gauntlet of booze. I've always imagined it must be like having Thanksgiving, Christmas, and New Year's Eve one day after another, but twice as long and with no family drama to harsh the buzz of my usually copious amounts of drinking.
Think of how much more festive drinking yourself to death would be if you did it in New Orleans during Mardi Gras instead of Las Vegas during…days that end in 'y'.
Anyway, here's the recipe for the 'Purple, Green, and Gold', as posted on A Mountain of Crushed Ice:
• 2 oz Lucky Player King Cake Vodka
• 0.5 oz fresh lime juice
• 0.25 oz simple syrup
• 1 oz grapefruit juice (yellow)
• 1 oz pineapple juice
• a handful fresh mint leaves, torn
Add to shaker and shake hard with ice, double strain into a purple sugar-rimmed cocktail glass and garnish with a mint crown.
(Via Liqurious, courtesy of Adrienne!)