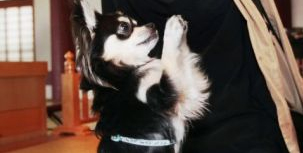 This* might be the most ingenious plan ever to drive up tithing at church; market God's love to people that are already up early on Sundays — the poop-scooping demographic.
Initially I was surprised that this was a church in Massachusetts; proselytizing is usually the province of Southerners. But then, those unitarians episcopals are nothing if not inclusive. That said, where's the special service for cat owners? The way my boys act, they could use a dose of religion every now and then.
*Note the irony in The Salem News using a witch on a broomstick as its logo. I'm sure those Puritan girls burned at the stake 400 years ago are chuckling about this down in Hell.