There's a short list of films that I will stop and watch whenever I happen upon them while flipping through channels.
Clueless is one of them, but not for the obvious Alicia Silverstone and Stacey Dash-shaped reasons.
• It was my suburban American post-'Creep' introduction to Radiohead, who by 1995 sounded like a completely different band.
• It was my introduction to Paul Rudd, who I have a hetero man-crush on to this day and will watch in almost anything.
• Wallace-f@#king-Shawn
Why Wallace-f@#king-Shawn? Because near the top of that movie list is The Princess Bride. And much of that has to do with Shawn's role as the "brilliant" Vizzini. But a bunch of other reasons, too. Even surface imperfections like Andre the Giant's unintelligible mumbling, the cheap set design and the crappy MIDI synthesizer score are actually part of The Princess Bride's perfection.
So I'm admittedly stoked about ClubMemberWines.com's latest offering, the "Bottle of Wits" line!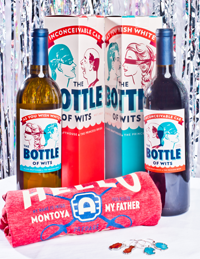 You can get the components parts separately, but also as part of the "Ultimate Princess Bride Fan Pack", which includes bottles of 'Inconceivable Cab' and 'As You Wish White', four wine charms, and a non-Ex-Boyfriend t-shirt (boo!), all for the kind of insane price of $100. Iocane powder for the smiting of one's enemies is not included.
(Via Thrillist.com)