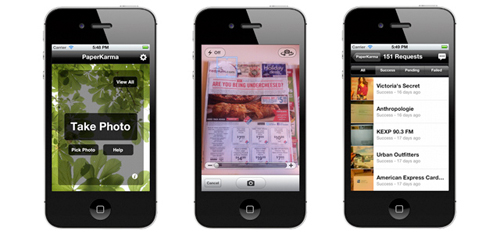 Things aren't going so hot for the US Postal Service right now: they're fending off a barrage of angry emails & phone calls from me on an almost weekly basis, and seeing their customer base shrink by the day. Don't weep for them, though — much of this is self-inflicted, as they continue to lose or just not deliver mail that people (hey, I'm people!) want, while simultaneously stuffing our mailboxes with junk, excuse me, direct marketing mail that most people don't want.
Thankfully, Readabl has come along with an app designed to help put the USPS out of our collective misery a little more quickly: PaperKarma.
PaperKarma is available for iOS and Android phones (as well as something called Windows Phone. Apparently Windows forgot about the fate of the Zune. That's OK, so did everyone else! *tech-zing!*) and allows users to take photos of the junk mail they no longer want to receive. PaperKarma then contacts the mailer and unsubscribes users from those distribution lists. Pretty sweet, amirite?
One hiccup, though — this app only works for junk mail addressed specifically to you. Sorry, Current Resident(s)!
Still, less junk is always a good thing. Unless you're a hoarder. Or an extreme coupon-er. Well, even then it's a good thing — who needs three lifetime supplies of store-brand cola and toothpaste?
(Via Springwise.com)