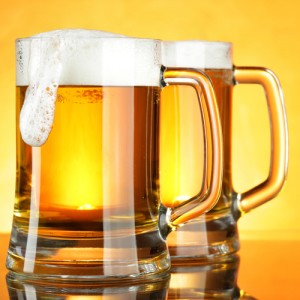 So it turns out some nerd-lingers decided to see if drinking beer makes one smarter — or at least more adept at problem-solving. Guess what your tax dollars found out? It does!
According to a study recently published in Consciousness and Cognition — obviously a beach-read if ever there was one — moderate alcohol consumption improved problem-solving speed and capability by close to 40% compared to test subjects who were sober at the time of testing.
This makes a lot of sense — with a few exceptions, many of the best creative thinkers (writers, musicians, scientists, artists, Steve Jobs) throughout history have benefited to varying degrees from "lubricating" their minds for good ideas. It slows down the synapses and allows for less-focused and more indirect thinking to take hold. The key, as with everything, is moderation — at some point one should sober up and analyze those ideas with a clear head to make sure they still have merit.
That said, maybe if I'd had a beer before my second SAT test it would've helped me get those pesky 10 points and elevated my combined score to the nice round 1200 I so desperately craved. Thanks, Fairfax County Public Schools, for NOTHIN'! (j/k — don't drink till you're legally allowed to, stay in school, and go Hornets!)
(Via BrainBlogger.com, by way of Adrienne!)