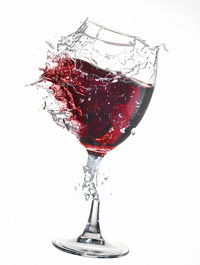 Your tax dollars (disguised as grant money) at work:
According to Time Magazine, some brilliant psychologists in England requiring one more flimsy published study to secure tenure have concluded that some wine drinkers may perceive whatever they're drinking as better or worse depending on what music is playing while they're doing so.
So if you hate the band Disturbed (warning: not suitable for listening to. Ever.) and that friend of yours throws them on as part of their dinner party soundtrack in an attempt to be ironic, you may find the wine less tasty than if there was something more appropriately-ignore-able (think "sad Starbucks compilation CD") playing in the background.
Of course, that sour taste in your mouth (TWSS?) could be because even the finest wine ever fermented tastes like shit when you're chugging it in an effort to flee said dinner party and forget that you ever knew the host(s).
Thanks, Science. Now where's my f@#king hoverboard?!!