So after a quick diversion into the robotic realm last week, I thought I'd wrap up this two-part series about my recent European escapades!
Previously I posted some pics of the cool art to be seen in Oslo, Norway and the choicest selections from Berlin's East Side Gallery. This week's focus is a bit more on Berlin's excellent street art scene.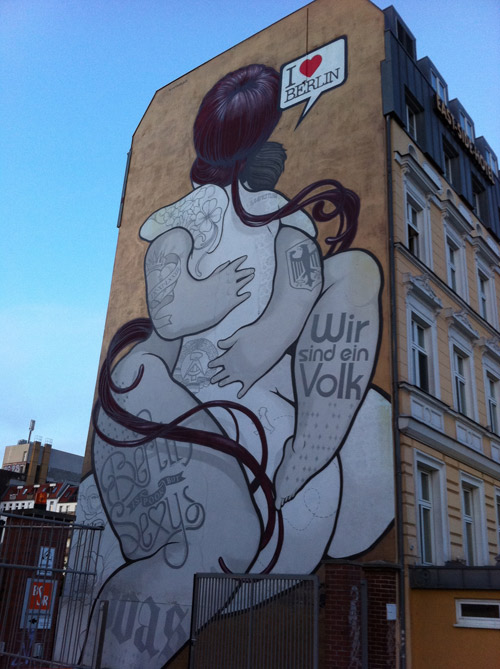 This awesome Japanese woodcut-style portrait decorated the side of a hotel across the street from the East Side Gallery facing the Spree River. We really loved the economical use of color and elegant contours and just thought in general it was great art AND marketing for the hotel; it's hard to miss AND hard to forget.
After a couple of mis-steps seeking out the cream of the art scene crop that we'd heard so much about before arriving in Berlin, we asked the proprietor of Big Brobot, a very cool book/toy/comic/t-shirt shop in the Friedrichshain section of the city, if he could recommend any good galleries that exhibited more street art and pop art (as opposed to the truly awful installations we'd seen up to that point.) He kindly pointed us in the direction of the NeuroTitan gallery and shop.
After a couple of missed turns, we finally were pointed in the direction of the correct alley leading to the gallery. Once we stepped into the alley, we were greeted with some really wonderful pieces of street art, from spray can art to traditional media to paste-ups.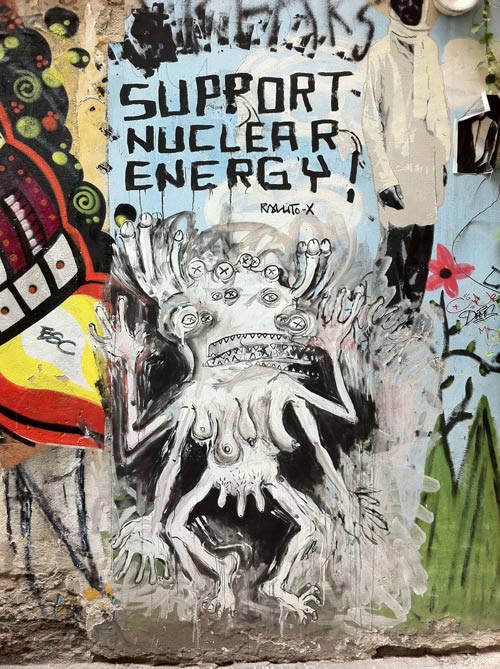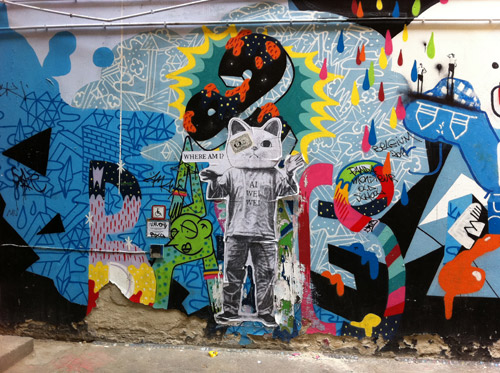 The alley then led into a courtyard that featured this very cool steam-powered sculpture of a steampunk bat-creature with flapping wings, roving eyes, and flailing proboscis. I really wish I'd switched on my video camera to catch it in action!
Finally, to get to the NeuroTitan gallery, we had to climb a few flights of stairs to enter the shop area before checking out the exhibit. While the exhibit was pretty "meh", the trip up the stairs was awesome, with the walls just COVERED in really cool graffiti and street art. One of our favorites was the "Fashion Chimp" ad paste-up, done in the style of a 1930s-40s women's magazine. Who wouldn't want a giant, life-sized "fashion chimp" for their home?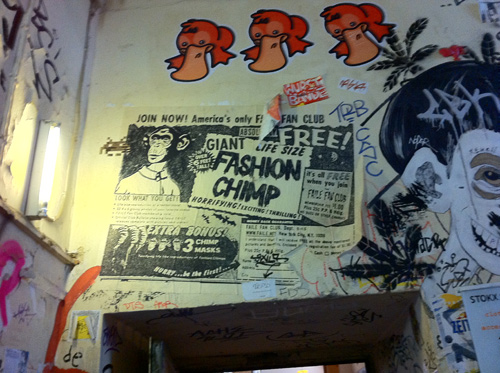 That pretty much wraps up our 2011 European adventure. Sad as we were not to be able to make it to Tokyo, it was an excellent diversion none the less, and hopefully the planet is done kicking Japan's ass for a few years and we can make it over there soon.
In OTHER Ex-Boyfriend news—AT LEAST two new designs are going to be up by the end of this week. If you or someone you know is into vampires, kitties, and/or kawaii-style art, be sure to check back!
ALSO: Be sure to tune into The Daily Show on Comedy Central tonight at 11pm. Our good friend Jackson Galaxy from Animal Planet will be sporting our very own Fuzz Aldrin this evening during Aasif Mandvi's segment! Woot! Be sure to spread the word!
UPDATE: The Daily Show segment featuring Jackson Galaxy wearing Fuzz Aldrin tonight has been postponed thanks to some big political news today, but I'll keep you guys updated about when it really airs!