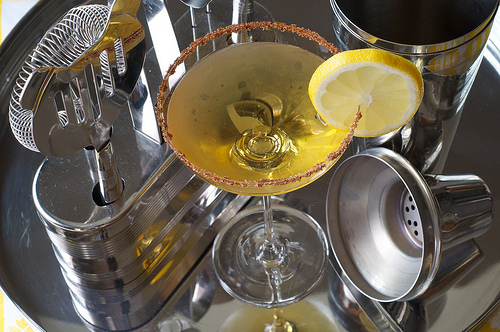 Last night, as we were making some gazpacho for dinner, Meredith and I discussed what to do with the leftover tomato juice. Naturally, our first thought was to bring booze into the mix.
We're currently vodka-less (well, we do have some Van Gogh Dutch Caramel and some Pinnacle Whipped Cream, but those would be pretty nasty with tomato juice), so I said "What about using some Hendrick's Gin? It's cucumber-y, which pairs nicely with the tomato, and we actually have it here."
We didn't really get much further with the discussion, because then it was time to eat the gazpacho.
But here I am today, trawling the depths of the internet looking for tasty drink recipes for you guys, and look what I found on Liqurious: Blood-less Bloody Mary's!
My first thought was "wouldn't it be more accurate to call them Plasma Mary's?" Turns out that that's exactly what Punk Domestics did. Smart cookies!
Plasma Mary
To make tomato water without going through the rigors of canning 100 pounds of tomatoes, simply blitz a few tomatoes in a food processor just enough to break them down, then strain through a few layers of cheesecloth.
2 oz tomato water
1 oz cucumber-infused vodka
1/4 oz (1-1/2 tsp) lemon juice
dash hot sauce
Spicy salted rim (see below)
For the rim, combine roughly equal portions of kosher salt, chili powder and ground cumin. (If you want a finer texture, use table salt or give the kosher salt a whir in a food processor for a second or two.) Dip the rim of the glass in water or vodka, lift directly out, hold the glass (still inverted) in the air for a couple seconds, then rest it into the spice mix.
Mix the remaining ingredients in a cocktail shaker with ice. Stir aggressively to chill. (Stirring gives it a thicker consistency and doesn't introduce air bubbles into the cocktail.) Strain into the rimmed cocktail glass. Garnish with lemon wheel or cucumber round.
Ed. note: For instructions on making your own cucumber-infused vodka, click the link above. Alternatively, you could also probably find a ready-made cucumber vodka at finer liquor stores — but where's the fun in that?
(Via Liqurious, by way of Punk Domestics)