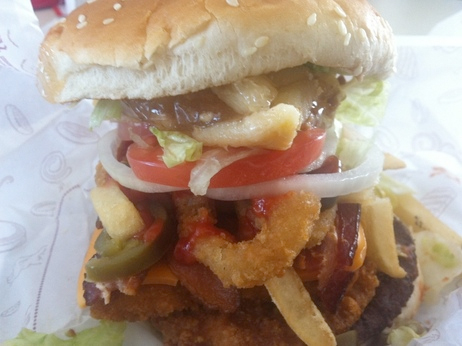 Well humanity, it's been real, but I want off this terrifying Wonkatania ride you call modern society.
The staff at NPR's Wait Wait, Don't Tell Me! decided to see if they really could "have it [their] way" and ordered a sandwich with the following ingredients:
• beef patty
• chicken patty
• fish filet
• onion rings
• french fries
• american cheese
• bacon
• lettuce
• tomato
• onion
• mayo
• ketchup
• slice of apple pie
all on a sesame seed bun. And for just $10!
Click here to read the full commentary. Those of you actually entertaining the thought of ordering this and too excited to read the commentary, let me first present you with the verdict:
"In the long history of Sandwich Monday, this is the worst thing we've ever had. Way worse than the sum of its parts. Avoid, avoid, avoid."
(Tip courtesy of Adrienne at Tattoos & Champagne!)