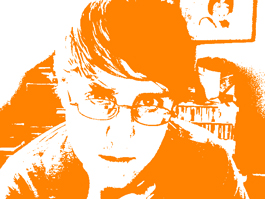 So, those of you who read my blog regularly (all ten of you) may have noticed that I was MIA all last week. I wish I had a good reason for my lack of communication, but I don't. The fact of the matter is, my wife was out of town (Way out of town. London, to be precise) last week, and if I'm being honest, it's very difficult for me to stay on-task when she's not around.
Tempting as it is to do the revisionist history thing and post a bunch of entries time-stamped for last week, let's just pretend that it never happened (which is, in itself, a revisionist undertaking. Tautology! Look it up, kids. Also, what's up with all the parentheticals today?)
Since only TWO of the aforementioned TEN readers have taken me up on my Meet the Fans Monday feature, I've decided to ease us back into the swing of things by interviewing myself. This exercise is two-fold: it give me a chance to mention Chuck Klosterman's latest book Eating the Dinosaur, which examines the nature of the interview from the quasi-philosophical angle that Klosterman does so well, and it also allows me to talk about myself, which I love doing.
How did you first discover Ex-Boyfriend?
I started designing some stuff. It needed a name. And "The Beatles" was taken.
5 10 desert island musical artists?
Yikes! Idlewild, The Smiths, Waylon Jennings, The Who, The Beatles, The Cure, Miles Davis, Wilco, Elliott Smith, and Blur. I will rue this list on the days when I crave some Johnny Cash, Radiohead and/or Oasis.
Tell us about your pop cultural guilty pleasures.
I don't ever really feel guilty about the stuff that makes me feel good… but I suppose the stuff that is the most incongruous with my persona would be my appreciation of certain Britney Spears singles, Jane Austen novels, "good" romantic comedies (Sleepless in Seattle, You've Got Mail, When Harry Met Sally, etc) and Gossip Girl.
What kind of tees do you hope we design next?
The kind that sell a lot! Ideally, stuff with monsters and robots and critters. You know, the usual.
Favorite haunts on the web?
Alright, time for some true confessions… I'm a bit of a sports nut. Not exactly the sort of thing you'd guess based on my job, wardrobe, haircut, listening habits, etc. But I LOVE baseball and football. So a lot of the places I visit deal with sports. Pretty much every one of the Yahoo! Sports blogs is choice. Fangraphs.com. CamdenChat.com. All are pretty entertaining reads. But I also love to drop in on chromewaves.net, because Frank Yang and I share a lot of the same taste in music (and I like free mp3's), videogum.com is excellent because Gabe is one of funniest bloggers I've ever read. And I would be remiss if I didn't mention andiamnotlying.com, which is partially contributed to by my friend David William, who is an amazing artist "living the dream" in hipper-than-hip Brooklyn. And of course tastespotting and liquorious!
Do you have any pets? What are they, what are their names?
I think this is pretty well-documented, but I'm pwned by two cats, Oliver and Bigby. And let's not forget the seemingly never-ending parade of foster animals.
If you had a time machine, where in history or the future would you go?
The future. To paraphrase Brian Fellows, I don't do dinosaurs.
Beer, liquor, or wine (be specific)?
Beer and wine are more or less in a dead heat. I love a good Belgian-style wheat beer, but I also like a nice, flavorful copper, amber or red ale. As far as wines, I've graduated from the "I only drink whites" camp to almost exclusively reds. I tend to shy away from the drier stuff—no merlots for me, thanks. I like a nice full-bodied shiraz, cabernet savignon, malbec, or pinot noir.
What's the first thing you notice about the ladies (or dudes if you prefer them)?
Teeth/smile. I can look past a lot of physical flaws, but bad teeth are pretty egregious.
Cake, pie or cookies (ice cream and candy are also acceptable, but be specific)?
This is tough! I love Starbursts. I like cupcakes a lot (though I'm pretty no-frills; plenty happy with vanilla-on-vanilla), and certain pies really get me going (key lime, blue berry, pumpkin, pecan). I appreciate a well-done cookie, but they're more of a stop-gap dessert in my book—a sort of "well, if there's nothing else around" treat. My wife's cherry cheesecake is pretty awesome, as is her pumpkin cheesecake topped with toasted pecans and caramel-bourbon sauce.