So there's a lot of new stuff coming your way from Ex-Boyfriend. We finally got around to posting my two newest designs, Eight vs. Ate and Transylvania Is 4 Lovers. I'm hoping to get at least one or two more up by the end of the week; I know it's been a bit quiet in that regard lately. Don't worry, though. I'm on it!
I also put the finishing touches on a new site design this weekend. Still a few minor things to do before that goes up, but I'm hoping to have it up later this week as well. The pitfalls of running a business with just two people!
Anyway, here are the new designs: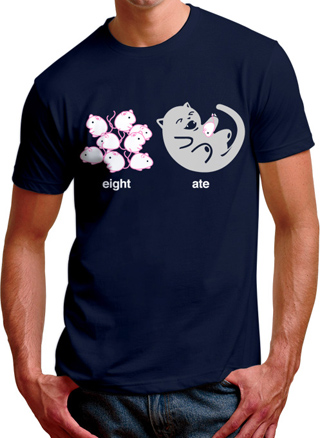 And just so you don't think this post is all about MY shizz, here's a pretty cool art blog I discovered via Thrillist.com a couple weeks ago: It's called Ten Paces and Draw, and the concept behind it is that the blog contributors come up with a conceptual theme and then invite artists to work collaboratively on a piece that reflects the given theme. One artist starts off and creates a sketch inspired by the theme, and then passes it off to another artist who completes it. It's a very cool idea. One of my favorite recent pieces is this collaboration between Kyle Fewell and fellow Baltimore-based illustrator Ariyana Suvarnasuddhi. Check out their other stuff; it's very good!