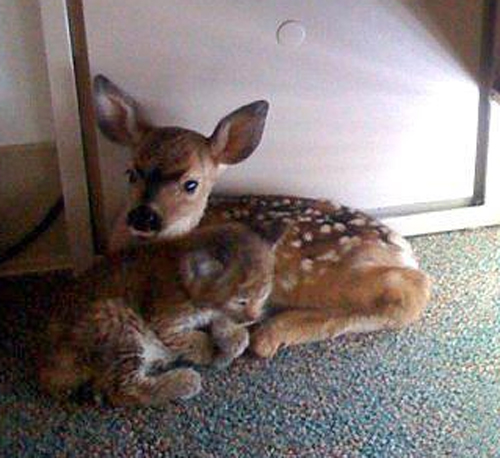 I just squee'd all over myself.
Lemme back up — a wild fire in Santa Barbara, CA (oh how I wish it was Santa Cruz so I could insert obligatory "go Banana Slugs!" exclamation here — wait, I just did!) last week forced this 3-day old fawn to bunk with this 3-week old bobcat kitten, as the Santa Barbara County Dispatch Office had run out of crates large enough to fit the fawn, and the kitten made a bee-line to get some snuggle time.
Can you say "love at first awwwww"?
(Via Gary's Facebook wall, courtesy of Melinda — thanks, guys!)
p.s. – In the DC-area and looking for something to do on Sunday? Swing by our booth (#620) at the Capital Pride Festival in our nation's capital! Free swag, awesome clothing & accessories — it has the potential to be legen – wait for it – darily fabulous!