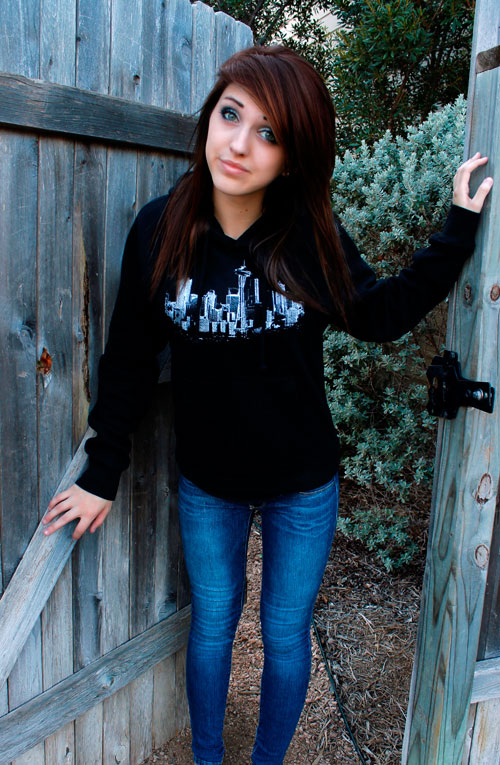 Brittney was kind enough to send in a pic of herself sporting my Seattle Skyline hoodie and answer some interview questions:
Favorite websites to visit:
Tumblr, Facebook, and Flickr.
When you were a kid, what did you want to be when you grew up?
A veterinarian or a teacher.
OK, after reality set in, what ended up being your first job?
My first job was at Safeway.
Beer, wine, or liquor? 
Liquor, and wine on occasions.
If you could have a dinner party for any famous people, who would you invite?
Big Chocolate (Cameron Argon), Sonny Moore, and Lady Ga Ga.
Favorite place to visit?
Washington! (Ed. note: we are assuming she means the state, not the district, given the totally rad hoodie seen above.)
Five current favorite songs, albums, or musical artists:
Parkway Drive, Foster the People, Matt & Kim, Big Chocolate, and Skrillex. (Ed. note: I am old, and only recognize Matt & Kim from this list. Would you care for a butterscotch, warm and lint-covered from storage in my cardigan pocket?)
Favorite visual artist(s)?
Francesco Carrozzini (photographer).
Do you have any pets?
Yes, 2 cats and a chameleon.
How would you spend your lottery winnings?
I'd use it to move into a small apartment back in Washington.
Most regrettable fashion decision?
Jeans with sharpie drawings all over them -_-
If you could have any super power what would it be?
Teleportation!
What new designs would you like to see next from Ex-Boyfriend?
Perhaps something involving a silhouette of a dead tree, I think its a really pretty organic shape.
***
Wanna be quasi-famous like Brittney? Just send me a pic of yourself rocking your fave Ex-Boyfriend gear and I'll send a list of questions for you to answer!