You may remember I posted pix of my latest litter of fosters a couple weeks ago. Andy was undoubtedly the star of that show—he was the biggest of the three, and, at the time, least-shy. However, he quickly made weight (I like to think of my fosters as high school wrestlers) and had to be taken back to the SPCA for surgery and to be put up for adoption. Unfortunately, Andy's bro Shane and sister Rosie were quite the lollygaggers when it came to packing on the pounds, so we've had them a couple extra weeks, but are due back to the SPCA on Sunday, so I figured now would be a good time to give them the spotlight!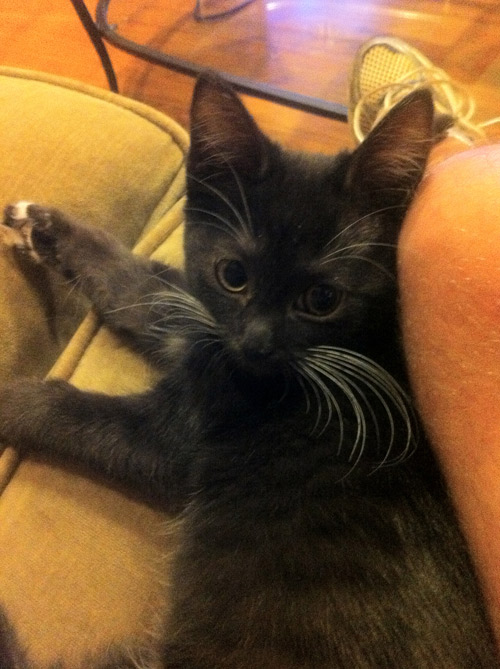 Rosie is a tough little subject to photograph because she's such a low-contrast little girl with all that black fur, but this one came out OK-ish…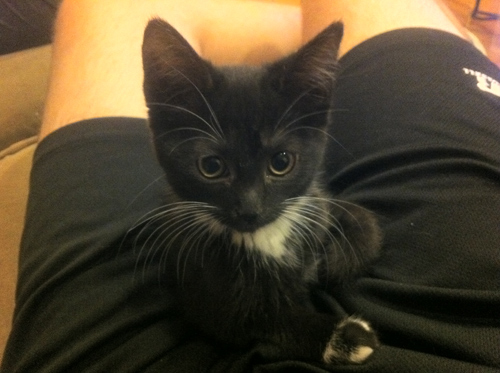 …though this one is pretty awesome. She's a bit of a talker, but also very much a lap-cat in training. Needless to say, I would love to keep her, but we're strictly a two-cat household (unless you ask Oliver—I'm pretty sure he wishes Bigby would get the hell out, too.)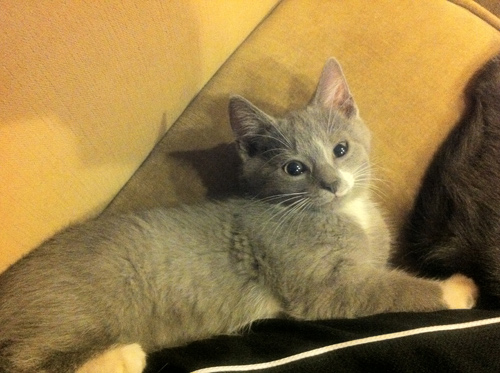 Shane, on the other hand, is a ball of grey-and-white energy. I can only take pix of him if he's on the verge of passing out or just waking up.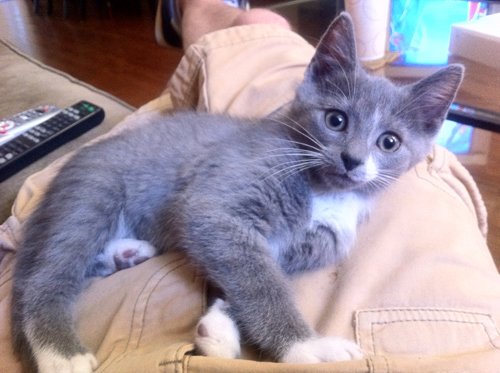 That said, he's pretty awesome. Does not care that Oliver & Bigby are 4 times his size; he will jump on their backs from up high, and has no qualms about running right over to their food dishes while they're eating to stick his fuzzy face in for a bite.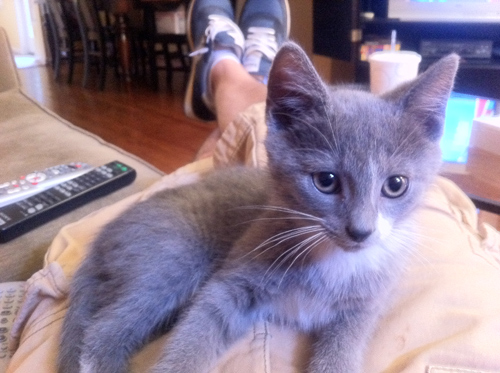 Finally, the piece de resistance:
Snoozing kitten pic FTW!
Also, I'd be remiss in not sharing a bit of info about this really nebulous art project I'm kinda-sorta working on. It's all still extremely vague in my own head, but I'm compiling photos of Bigby presenting his balls for a collage of some sort.
Stop laughing! (Actually, no, please to continue.)
Basically, Bigby loves sleeping on his back. And every time I happen upon him like that, I'm compelled to snap a pic of it. It's simultaneously lewd, hilarious, and adorable: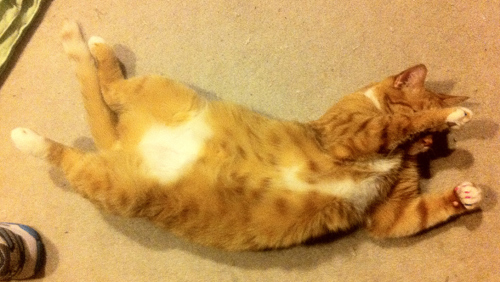 And this isn't just a frozen moment of him rolling from one side of this body to another—he lays on his back like this for 5-10 minutes at a time. Sometimes propped against a wall/door/laundry basket, but mostly just in the middle of the floor, flashing his empty kitty-sac at the world. And it cracks me up.
And on that note (and by "note" I mean "with my cat's balls all up in your grill"), have a great weekend, guys!