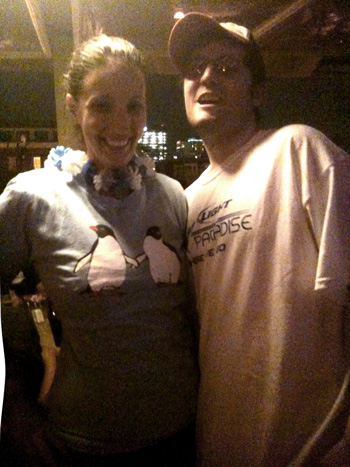 I apologize for the crappy quality of this pic (and post; I'm severely hung over). What you see before you is supreme dedication.
While I was out with my wife and friends last night, a guy came over to our table and literally asked for the shirt off my back. Apparently his lady-friend (pictured above) loves penguins, and liked my Penguins In Love design so much that she had him ask me for it. Typically I wouldn't have taken off my shirt in a bar, but they actually had a free crappy over-sized Bud Light tee of some kind to give me in exchange, so I wouldn't be left shirtless. Since I'm all about going the extra mile for you guys, I gave this girl the shirt off my back. And since I rarely go out without one of my own tees on my body, you guys also stand a very good chance of coming away with a very sweaty cool free t-shirt of your own if you happen upon me. (Chances are especially good if I've been drinking.) Just keep an eye out for me; I'll be the guy in the Ex-Boyfriend shirt complaining about the state of the Baltimore Orioles baseball club.
P.S. I'm too hungover today to talk about booze with any enthusiasm, so instead I'll just point you to Fork Party's list of 11 Terrible Hangover Cures. Here's hoping your Thirsty Thursday is less headachey than mine.